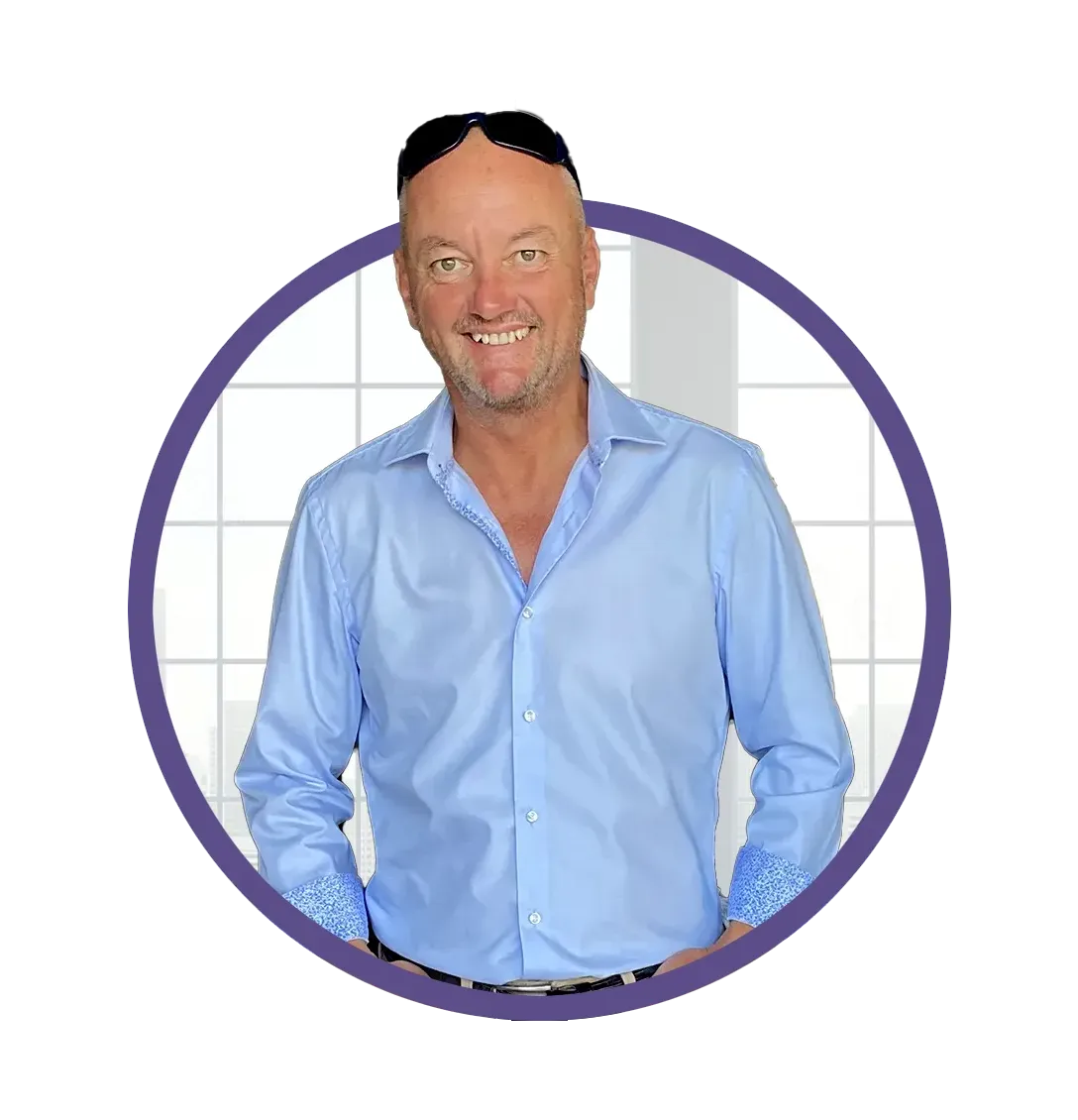 ANDY BROWN
Founder, Kajabi Expert & Business Strategist
Ever since my first encounter with an Apple Macintosh in 1986, I've been captivated by the power of digital marketing.
I honed my skills in advertising agencies across London, Scotland, and Jersey before founding Great Circle in 2004. With experience working with world-leading brands, I bring a wealth of expertise to our clients.
My specialties include Kajabi, business growth strategy, membership and online courses, content development, and SEO.
When I'm not helping clients transform their businesses, you might find me in the air, on the Padel Court or in the ocean.
But my greatest rewards come from collaborating with our amazing clients. Together, we identify the challenges and execute plans that take their businesses to the next level.
Email: [email protected]​
LinkedIn: andybrownentrepreneur/
JULES LE CORNU
Managing Director
Stepping into the leadership role at Great Circle in 2022, I bring a dynamic blend of sales and marketing expertise honed over years of hands-on experience.
As the orchestrator of our global team and the liaison for our diverse clientele, I'm the gateway to the transformative services Great Circle offers.
Outside the office, I'm known as the "Cat Whisperer," a title I've earned through countless conversations with feline friends. 
As your initial touchpoint with Great Circle, I'm not just here to answer your calls; I'm here to open doors. Whether you're looking to revamp your digital strategy or scale your business to new heights, consider me your go-to for turning possibilities into realities.
Feel free to reach out and let's set the wheels in motion for your success.
Email: [email protected]
LinkedIn: linkedin.com/in/juleslecornu
OUR TEAM
Your Dedicated Experts for Business Success
Our team is more than just a group of experts; we're a collective of specialists, each excelling in areas like Kajabi development, SEO, content creation, and data analytics.
What binds us together is an unwavering commitment to our clients' success.
We don't just offer services; we invest emotionally and intellectually in your business as if it were our own.
Our approach transcends mere technical expertise; it's about building meaningful partnerships that yield tangible results.
When you collaborate with us, you're not just hiring a team; you're gaining a dedicated squad, fully committed to elevating your business to unprecedented levels.
You can count on a team that's fully invested in your success.
Let's connect and elevate your business today!
WHY GREAT CIRCLE?
We're not just another agency offering technical fixes. We're your strategic partners, bringing decades of experience working with global brands to your unique challenges.
Specialising in Kajabi development, business growth strategy, content creation, and SEO, we offer a holistic approach to digital marketing.
Our deep commitment to understanding your specific needs and goals sets us apart. Our team is a collective of specialists, each an expert in their field, all driven by the same passion for your success.
We don't just do tasks; we create systems. We don't just build websites; we optimise sales funnels. We don't just write content; we tell your story in a way that resonates with your audience.
So, if you're looking for a team that offers more than just technical expertise—a team that can provide clarity, align your business, and set you on a path for sustained growth—your journey starts with us at Great Circle.
OUR MISSION
Our long-term vision at Great Circle is to be the go-to Kajabi Experts who empower a global community of business owners to achieve sustainable growth.
Leveraging the power of Kajabi, we aim to transform businesses from surviving to thriving, enabling them to deliver unparalleled value to their customers.
We aspire to set new standards in customer satisfaction and business integrity, making us the catalyst for transformative growth in the Kajabi community.
OUR VALUES
Client-Centric Approach: We believe in putting our clients first, always. Your success is our success, and we're committed to helping you achieve your goals.
Holistic Solutions: We're not just Kajabi experts; we offer comprehensive solutions that address your unique business challenges. We look at the bigger picture to help you grow sustainably.
Integrity and Transparency: Honesty is non-negotiable. We maintain open lines of communication and are transparent in our processes and pricing.
Innovation and Excellence: In a rapidly evolving digital landscape, we strive to stay ahead of the curve, continually updating our skills and adopting the latest technologies.
Empowerment: We aim to empower business owners by providing them with the tools, strategies, and knowledge they need to succeed.
Sustainable Growth: We're committed to helping our clients build businesses that aren't just profitable but also sustainable and responsible.
Community and Collaboration: We believe in the power of community and collaboration. Together, we can achieve more than we ever could alone.
By working with Great Circle, you're choosing a partner who shares these values and is committed to helping you succeed.
Get in touch.
If you'd like to know more about how we can help you grow your business, please book a FREE, no-obligation chat with Andy or Jules.